Our Mission
The Purpose of REALISTIC ROMANCE®
is to empower individuals and couples
(and young people) . . .

• to recognize unhealthy and dangerous mass media myths
and stereotypes of sex, love, and romance;

• to understand the harmful influence of these portrayals;

• to use the critical thinking skills of media literacy to
"dis-illusion" media-created unrealistic expectations
that sabotage real-life sex, love, and romance;

• to avoid using media myths and stereotypes as models
for real-life behavior;

• to adopt healthy research-based relational strategies
to achieve real-life romantic relationships that are
more rewarding and fulfilling than media fantasies.


Thousands of men and women and young people have benefitted from REALISTIC ROMANCE®. And now YOU can, too!
REALISTIC ROMANCE® is based on the research, writing, and teaching of Dr. Mary-Lou Galician (The Original "Dr. FUN") — an award-winning internationally respected and dedicated media literacy advocate who is the creator and director of REALISTIC ROMANCE® and the founder and director of the Realistic Romance® Institute for Research and Education (RRIRE).
Dr. Galician is also the first Professor Emerita of the Walter Cronkite School of Journalism & Mass Communication at Arizona State University, where she was Founding Head of Media Analysis & Criticism and Lead Professor of Cronkite/ASU Online.
Dr. Mary-Lou, who was with PBS-TV during the roll-out of Sesame Street, is a firm believer that education—for all ages—should be FUN. In fact, she is widely and affectionately known as "Dr. FUN"—a nickname she earned because of another trademarked "edu-taintment" program of empowerment she created: FUN-dynamics!®—The FUN-damentals of DYNAMIC Living, a musical motivation program to help people "beat burn-out, the blues, and the bad news—and get Fired Up Now (FUN)."
PROGRAMS & MATERIALS
Dr. Galician and her associates offer empowerment programs and educational materials that are fresh, unique, and life-changing.
REALISTIC ROMANCE® programs combine traditional lectures and demonstrations—including media artifacts such as video clips of movies and television shows, sound clips from popular songs, and images of magazine covers and ads—combined with experiential participant interaction and discussion as well as productive peer-group activities.
REALISTIC ROMANCE® programs
are ground-breaking, research-based but accessible,
audience-engaging, LIFE-CHANGING educational events.
There is nothing quite like them elsewhere.
REALISTIC ROMANCE® books and other materials provide scholarly scientific foundations in an accessible and applicable format that's clear and practical—enabling users to adopt successful strategies and achieve high-level, empowering, and genuinely rewarding real-life romantic relationships.
These research-based resources include step-by-step, easy-to-understand strategies, case studies, and detailed examples of harmful media portrayals as well as rarer healthy portrayals. While the majority of the content is geared toward adults and older teens, Dr. Galician even includes suggestions for parents to debrief their children after they view cartoon classics like Beauty and the Beast and Lady and the Tramp, which seem innocent and harmless but are filled with unhealthy myths and stereotypes.
REALISTIC ROMANCE® programs, presentations, books (digital and audio as well as traditional binding), and other educational resources are available for the general public as well as for schools and colleges, educational and service organizations, conventions, and other groups.
Licensing training is also available for qualified individuals who want to present REALISTIC ROMANCE® programs.
THE THREE MAJOR ELEMENTS:
Love Quiz, Rxs, Reality Check-Up
At the unique core of REALISTIC ROMANCE® courses, programs, books, and other educational materials are 12 unhealthy major mass media myths and stereotypes—identified and codified by Dr. Galician as Dr. FUN's Mass Media Love Quiz©, which she has presented on national television—and her corresponding 12 Dr. Galician's Prescriptions© (Rxs). The 12 Rxs are healthy relational strategies for media consumers to use as "antidotes" to the 12 unhealthy myths and stereotypes—to free themselves from seductive media-fostered unrealistic expectations and to empower themselves to be the star of their own spectacular REAL-life love story.
One of Dr. Galician's favorite quotations
(which she wrote on her office wall [below]
next to her drawing of her archetypal heroine
Alice in Wonderland—who rescues hersef!)
is attributed to 19th Century German writer Ludwig Borne:
"Losing an illusion makes you wiser than finding a truth."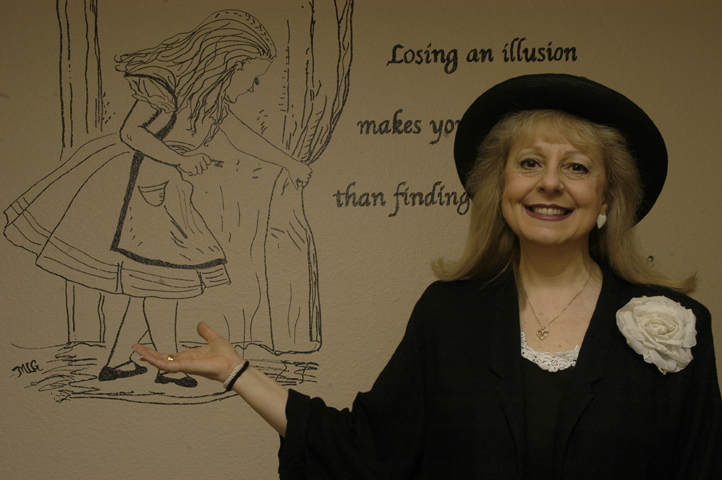 After getting Dr. Galician's 7-Step Reality Check-Up©, a media literacy approach that goes beyond traditional methods of media analysis and criticism by inviting self-evaluation and personal responsibility that result in empowering productive action, anyone can become expert in practicing critical thinking to "dis-illusion" media portrayals and "get REAL about ROMANCE."
OTHER SIGNIFICANT ELEMENTS:
Annual Awards and The Institute
To call public attention (and the media's!) to unhealthy portrayals of sex, love, and romance that abound in the media—and to honor the rare healthy media models, every year on Valentine's Day Dr. Galician announces her Dr. FUN's Stupid Cupid & Realistic Romance® Awards™. The public can make nominations on ballots available every November and December on the ANNUAL AWARDS link of this website. In January, a panel of judges headed by Dr. FUN meets to make the final selections, which are announced and listed on this site's ANNUAL AWARDS link as well as through other media outlets.
In 2006, Dr. Galician added yet another significant element to the vital mission of REALISTIC ROMANCE® when she established the Realistic Romance® Institute for Research & Education (RRIRE), which brings together academic and professional associates and volunteers worldwide to empower individuals and couples as well as to provide training for parents, educators, counselors, and life coaches.

REALISTIC ROMANCE®
really is
The Thinking Person's Relationship Remedy™!